Hey everyone! Sorry my post this month is a few days late! I'm interviewing author Edwin Peng, who recently released his debut novel,
Star City
. It's a YA sci-fi novel (first of a planned trilogy) about alien first contact... what might happen if a race of enlightened, peace-loving extraterrestrials showed up tomorrow asking to share knowledge? You'd think that would be a good thing, but never underestimate humanity's foolishness...
The book's two main characters are Emma Smith, a college freshman chosen to be a student liaison to the aliens, and her counterpart on the alien side, Sepporinen. I read
Star City
a few weeks back, and I loved it! It's a fun YA sci-fi read, but it also has some interesting social commentary. And the world-building for the alien culture is magnificent.
Star City
is preceded by three prequel short stories, "The Announcement," "The Test," and "The Meeting," which provide some cool background on the characters (though you don't need to read them to read
Star City
-- they're like bonus scenes).
I was thrilled to be able to ask Edwin a few questions about his book and his writing life.
Edwin Peng
Thank you for having me!
I continued to write stories and novels, but it was hard to find the time to be a productive author as I was paying the bills and working day jobs. It wasn't until four years ago that I got serious as an author. I began my PhD studies at the University of Lincoln-Nebraska, which gave me quite a lot of inspiration to write science fiction (I'm doing high power laser research).
Cover of Star City
One of Star City's three
prequel short stories
Thank you for your compliments!
Liam is the coolest big brother who parlayed his nerdy love for science fiction into an awesome job working with real-life aliens. He may crack a joke during inappropriate time, but his heart is in the right place.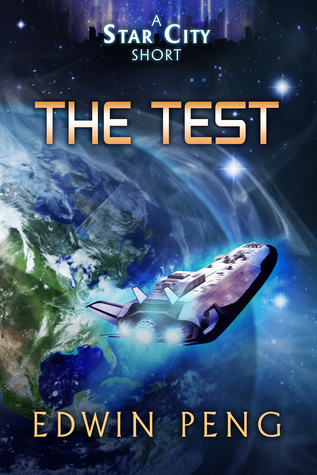 The second of Star City's
three prequel short stories
World-building is my favorite part of writing. I enjoy imagining a different world than ours – and the challenge of making that world full-fledged and internally consistent.
For example, the Ba'ren sent eight spaceships to Earth. Like many science fiction authors, I'd fun imagining these spacecrafts: what they look like, how are they powered, and where can they travel to. But I also enjoyed brainstorming about social science aspects: Who will the Ba'ren send to make contact with humans? How is the Ba'ren on their starships governed? What do the Ba'ren do to relax after a hard day's work?
Too long!
I basically have 2 rules that I follow when writing: 1. Plan the scene before writing it and 2. Keep writing – even a few words a day is better than none.
The third of Star City's
three prequel short stories
Science fiction to me is the premier genre of our time. We live in a world that, for the last few hundred years, have changed dramatically and quickly due to scientific and technological changes. Good science fiction can prepare us for future changes as well as provide important commentary on our current social conditions.
Edwin is the author of the Star City series, which features badass heroines and space aliens who love blueberry pies. The first novel is released by Evolved Publishing on December 4, 2017.
Here are my social media links: